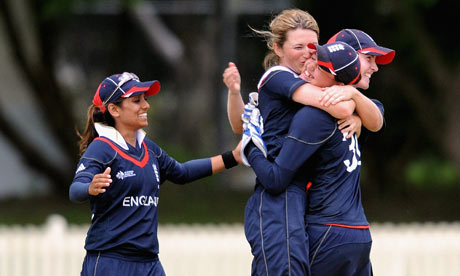 Last Saturday, the Guardian ran an article bemoaning the lack of coverage of women in sport. It was prompted by the fact that the English women's cricket team were about to play in the World Cup final against New Zealand, but they had had very little media coverage. The article also talked about the fact that more gets reported about Rebecca Addlington's love of shoes than about the hours she spends training. Culture secretary Andy Burnham called on broadcasters to increase their coverage of women in sport saying, "We've just had a great week for women's sport in the cricket and in Sheffield with the swimming. And yet how much do the next generation of women and young girls know about it? This is big, important and significant in terms of the health of the nation and our sporting potential. There is a public service broadcasting issue here, thinking about how it serves the community and the whole country."
Well, the women's cricket team won the World Cup in Australia on Sunday,for the third time in spite of having only a fraction of the support and money that is poured into the men's sport. So where did this great achievement feature in the Guardian after their article? In the bottom right hand corner of page 13 in the main section, where the rest of the page is devoted to the possibility that the Indian Premier League just may be coming to the UK next month. And on page 11 of the sports section, again in the bottom right hand corner where the rest of the double page spread is devoted to more about the IPL and a larger article  about the English men losing to the West Indies, which frankly is not really news is it? It seems they missed a big opportunity to be part of the solution to a problem they have reported on just two days before.
I'm not a huge fan of cricket but I am always really inspired by stories of sporting success against the odds. And I want to read about women in sport. The media tells us that there's less of an audience for women in sport, but how do they know if they don't report on it? It's such a circular argument.