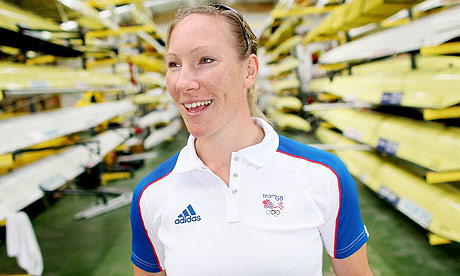 Many young women think sport is unfeminine and they would rather be thin than fit. So the Olympics may be a great opportunity to inspire them to view sport in a different light, particularly as there will be lots of female role models achieving amazing things.
Debbie Flood is aiming for gold in the women's quad rowing race. She is a committted Christian and is interviewed in today's Guardian:
"My faith is really important to me. I look back on my life and see that I have been put in these places which appear to be random, but as I see it I have found something that I am really good at and God has put me here as a witness for him. He has got my life in his hands and this is where he is taking me," she said.
"I'm quite lucky, everyone in my team knows that I am a Christian but they see that I am just a normal person, I get on with my rowing, I train hard, I'm not strange because I'm a Christian but I believe in God and it's a big part of my life."
Other women to watch - some of whom are teenagers - include:
Paula Radcliffe in the marathon, having battled a stress fracture and a posionous spider bite in the last few months.
Jo Pavey in the 10,000m and 5,000m
Rebecca Romero who won a rowing silver in Athens but is now competing for a cycling gold
Rebecca Adlington who could win the first swimming gold since 1988 in the 400m, 800m and/or 4x200m freestyle - 19 years old
Christine Ohurugou, 400m after time out for missing three drugs tests
Victoria Pendleton, match sprint cycling
Shanaze Reade, BMX - 19 years old
Hollie Avil, triathlon - 18 years old
Jemma Lowe, 200m butterfly - 18 years old
Update: I liked this article in the Guardian after Rebecca Adlington, Nicole Cooke and Joanne Jackson won the first three medals for Britain. Kira Cochrane writes about seeing Nicole Cooke on the podium: '...it was so long since I'd seen a woman being celebrated simply for what she'd done, that the image had come as some sort of shock to the system. Here was a woman being venerated for her power rather than her femininity, as a figure of absolute achievement and action and ambition. This wasn't about how Nicole Cooke looked, or what her success could sell, or who she might or might not be sponsored by. This was about Nicole Cooke and her will to win. Nicole Cooke and her toughness. Nicole Cooke's actions in the past few hours, not to mention all the hours of work she had put in during every one of her 25 years.'